This is an archive of a previous conference - thanks for checking it out! You can see our current conference at nordevcon.com
Speakers
Chris O'Dell

Backend Engineer at Monzo

Between 2012 and 2014, Chris led the API team at 7digital – a leading provider of music streaming services worldwide. After that, she spent 3 years at Just Eat in both the Payments and Platform Engineering teams. She now works at Monzo, helping to transform the banking world.

Dr. Gail Ollis

Researcher and Lecturer at Bournemouth University

Cyberpsychology is my accidental second career. I was a commercial software developer for two decades and became so obsessed with the human aspects of the job that I took a psychology degree to investigate further. In 2019 I finally completed my PhD research in psychology of software development. Throughout my studies I worked as an academic, lecturing in both programming and cyberpsychology. Now I am moving on to research in cyber security, applying my rare interdisciplinary combination of psychology knowledge and practical programming experience.

Jennifer Wadella

President & Founder at Kansas City Women in Technology

Often described as a force of nature, Jennifer is a JavaScript developer, speaker, foodie, fitness geek, and community organizer most well known for her work creating innovative and highly sought-after programs for women in technology.

Karen Poulter

Head of IT Development and Architecture

Previously having been Head of IT at Stansted Airport and Acting IT Director of Suffolk Police Karen has worked across a variety of industries both private and public sector.
Dani Papamaximou

Geospatial Data Scientist

David Kinnen

Curriculum Leader KS5 Progress and Achievement at Inspiration Trust

Federica Freddi

Deep Learning Researcher at MediaTek

Jez Higgins

Software Grandad

Jim Marshall

CEO at Marshall Wolfe

John Marshall

International Trade Adviser at Department of International Trade

Katja Mordaunt

Web App Developer at Neontribe

Kitty Rosser

Senior Associate at Birketts

Mark Flanagan

Senior Developer at Contract Calculator

Michael Davey

Digital TV and FTTH Technology Consultant at Michael Davey Consulting Ltd

Paul Palik

Senior Associate at Birketts
Schedule
Main Auditorium (Track 1)
Conference Room 1 (Track 2)
Conference Room 2 (Track 3)
Board Room (Track 4)
Training Room 1
27th February

11:30

12:20

12:30

Developer Experience (Opening Keynote)

Chris O'Dell

13:30

13:45

An introduction to WASM

Mark Flanagan

Hubs: An Organizational Construct for Scaling Agile Development

Jim Coplien

Components, patterns and sh*t it's hard to deal with

Marco Cedaro

A Mouthful of C++

Jez Higgins

Ricky's Totally Cool MariaDB Workshop

Richard Bensley

14:30

Building next generation web apps with Blazor

Chris Sainty

Cynicism Doesn't Build Products

Gwen Diagram

Healthy code, Happy people (an Introduction to Elm)

Katja Mordaunt

A Mouthful of C++

Jez Higgins

Ricky's Totally Cool MariaDB Workshop

Richard Bensley

15:15

Crash, bang, wallop: miscellaneous lessons from exploring a drum kit

Jon Skeet

Metamorphic Testing or Can we test the impossible?

John Nicholson

What the JAMstack?

Jamie Bradley

A Mouthful of C++

Jez Higgins

Ricky's Totally Cool MariaDB Workshop

Richard Bensley

16:00

16:15

"Humaning" (Closing Keynote)

Dr. Gail Ollis

17:15

17:30

nor(DEV):drinks - Socialising, Networking, and Drinks

28th February

08:30

09:20

09:30

It's Not Me, It's You: When Change Gets Personal (Opening Keynote)

Karen Poulter

10:30

10:45

Kindness

Jon Skeet

YourOwnPlace: Mentor Training

Rebecca White

JavaScript is dead, long live JavaScript!

Q 🦄

Strategic Business and Tax Workshop

Mary Schofield

How to build & manage high performing teams

Jim Marshall

11:30

Why I Was Bad At Sketchbooks: Imposter Syndrome And Letting Go Of Perfection.

Charli Vince

Fund your tech startup

Neil Garner

Nice words butter, but no parsnip; or how to use game theory to understand company politics

Dani Papamaximou

Strategic Business and Tax Workshop

Mary Schofield

Department of International Trade

John Marshall

12:15

13:30

The Story of The Code

Dom Davis

Pleasing the robot overlords (SEO stuff that gets missed)

Mark Williams-Cook

The trygve programming language: Real Object-Oriented Programming

Jim Coplien

Computer Vision coding workshop

Federica Freddi

What's the point of being mentored?

Brian Bush

14:15

Educating the Future

David Kinnen

Using CDNs For SEO Changes

Dan Taylor

Building Distributed Applications using Visual Workflows with AWS Step Functions

Steve Engledow

Computer Vision coding workshop

Federica Freddi

Tech contracts: what could possibly go wrong?!

Paul Palik

15:00

15:15

Better mental health and wellbeing literacy for developers

Nicholas Walsh

Help me, Help you, Help Business

Chris Sargisson

Concurrency in Go

Dom Davis

Getting Started with Google Tag Manager

Kiera Lavington

How to get 33% of your software development costs back with R&D tax credits

Adam McCann

16:00

The Politics of Tool Shaming

James Seconde

St Martins', from a small spark, to a funded startup. Our journey, and future!

Nicola King

How to become an AI-driven enterprise

Adrian Pickering

Getting Started with Google Tag Manager

Kiera Lavington

How to manage a data breach

Kitty Rosser

16:45

17:00

17:30

When Did We Become Afraid to Try? (Closing Keynote)

Jennifer Wadella

18:30

19:00
Workshops
Take full advantage of your visit by attending one of our workshops run by a group of experienced speakers and trainers.
We'll be exploring topics like shaping business ideas, problem management methodologies and accounting for contractors.
View workshops
Food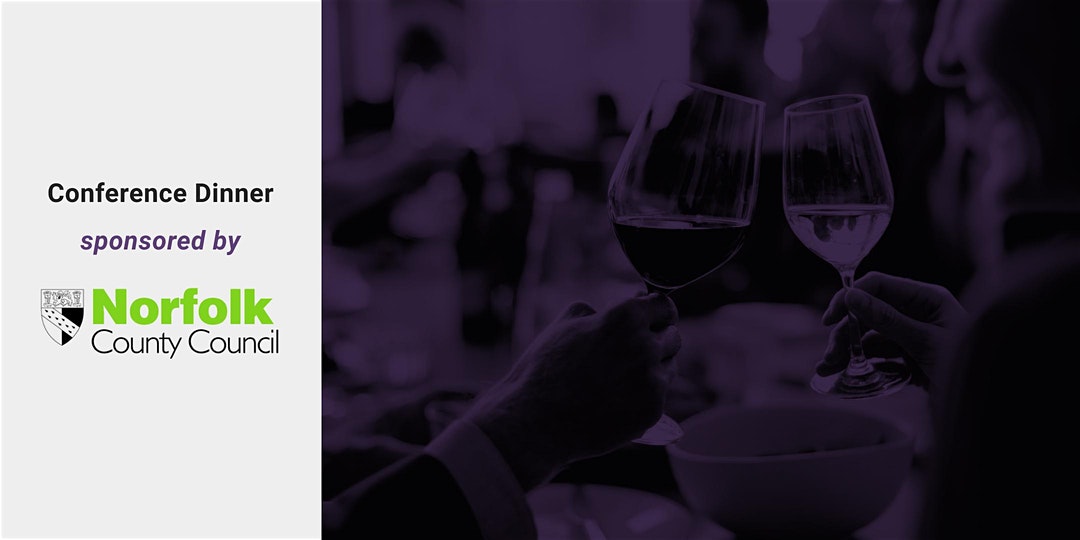 Enjoy an exceptional post-conference three course meal, prepared by Ginger Lily catering.
We're joined by Norfolk County Council and a representative from the Department for International Trade who will give us a brief update on their local initiatives and investments.
Fri, 28 February 2020 19:00 – 22:00
Nearby
With good connections across East Anglia, and the UK. The historic Norwich Train Station provides good access.

0.6miles from the venue

Located on Duke Street, close to the river. The Premier Inn offers an affordable stay.

0.5miles from the venue

Located within Tombland and nextdoor to the Cathedral. The Maids Head Hotel is an award winning, AA 4 Star hotel. Known to be the oldest in the UK.

0.4miles from the venue

Comfy king size beds with four plump pillows and a cosy duvet. An on-site restaurant and bar serves breakfast and tasty evening meals.

0.5miles from the venue
Sponsors
The Norfolk Developers Conference wouldn't be possible without the support of our wonderful sponsors. We're really grateful for their trust and support; and are proud to feature them below.
Want to join our community of Sponsors? We stil have a range of sponsorship packages available.
IJYI

Elite

IJYI employs a dedicated, talented and creative team of Developers, Quality Analysts, Project Managers, Architects, Trainers, DevOps consultants, Business Analysts and Agile Coaches who all work hard to help clients achieve the best possible outcomes for a range of complex IT projects.

Snoop

Partner

Snoop's a new kind of app, designed to save you money. Snoop connects to your bank accounts and credit cards, showing you how to save money at the places you already spend.

TEC Partners

Partner

TEC Partners is a technical recruitment consultancy specialising in permanent, contract solutions to the IT, Engineering, Digital & Scientific sectors across the UK. Working with both clients and candidates, we make extensive efforts to understand the specific needs of individuals and to provide the most appropriate solution to satisfy those requirements.

Alpha Inclusion

Partner

Alpha Communication is the Commercial Element of the organisation. With a commitment to upskilling staff and building teams, we focus on the essential skills needed for your workforce to perform effectively.

FXHome

Partner

We believe in creativity, and making powerful tools accessible to everyone. What started as a big idea on a little budget, has grown to a global movement. Our software powers countless creative projects worldwide.

PlanetK2

Associate

Founded on simple principles, PlanetK2 programmes are designed and applied to the unique challenges our customers face. We enable a move from theory into action, transforming human performance in people, business and brands.

Lovewell Blake

Associate

Specialist teams at Lovewell Blake comprise experienced and highly qualified experts in all areas of accountancy, business advice and financial planning. We help our business clients to grow and our private clients to prosper, by providing sound business advice and a comprehensive range of support services across our 8 office in East Anglia. We specialise in the tech sector and continuously support innovation in our local community.

Rainbird

Associate

Our mission is to make your decision making smarter and customer experiences smoother. Rainbird increases the rate and quality of key decisions made by your most impactful people, transforming your productivity and customer outcomes.

BreakwaterIT

Associate

Providing cost-effective IT support, IT services and IT solutions which work together to power your business.

InfoQ

Associate

Senior software developers rely on the InfoQ community to keep ahead of the adoption curve.

SomewhereRandom

Associate

Somewhere Random, IT consultancy without the BS

Norfolk County Council

Conference Dinner

Norfolk County Council aim to make Norfolk the best digitally connected county in the country. Ambitious yes, and it won't happen overnight. But we're working on the following fronts: a Wide Area Network: Fibre (including a project to deliver gigabit connectivity to 340+ rural public sector sites): mobile connectivity improvements: an Internet of Things Innovation Network to cover the whole of Norfolk and Suffolk, and 5G – looking to become a national pilot project.